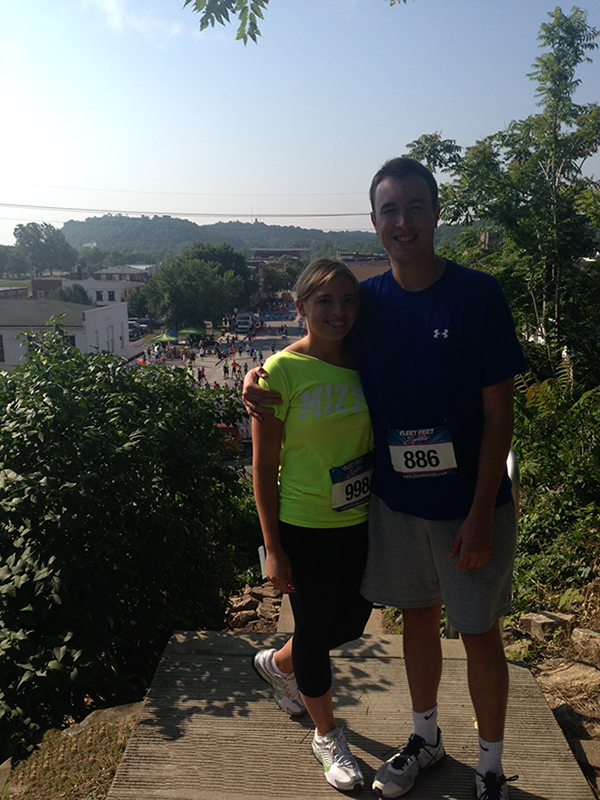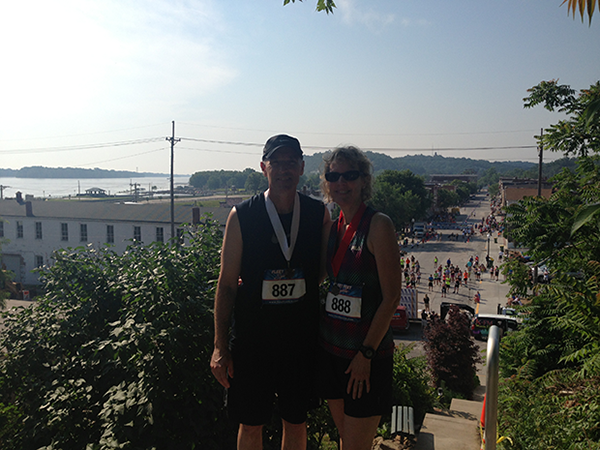 There's nothing better than a long weekend. It's always like a mini-vacation. A much-needed reboot. This past weekend was pretty fun: Fourth of July dinner, drinks and fireworks downtown with friends; a weekend in Hannibal; and the John Mayer concert in St. Louis.
In Hannibal, I ran (ha! mostly walked) my first 5K at the annual
Hannibal Cannibal
. Originally I signed up for the 10K; being the overachiever that I am, I actually thought I would have the time and energy to train to run 6.2 miles after not having run for exercise or leisure in, oh, I don't know, years. What was I thinking? I have been really stressed lately with projects and work, so I never had a chance to train properly, and after a minor panic attack, I downgraded to the 5K at the last minute. Great decision, because I would have never survived a 10K with those Hannibal hills! Dan accidentally downgraded himself to the 5K when he missed the route for the 10K, so we ended up "finishing" together. Meaning he finished first, ran back and waited for me so we could cross the finish line together. He's cute like that. Dan's parents ran the 10K and both placed in the top 3 in their age groups. They're pretty inspiring. I'm more than a little embarrassed people three decades my senior can run laps around me. The race made me realize just how out-of-shape I am when it comes to cardio, and that's definitely something I plan to work on. Pure Barre isn't enough if I can barely run 2 miles! In Hannibal, we also visited with Dan's family (it's his dad's hometown) and went to nearby Quincy to have dinner with his parents' friends. We managed to do a lot in our day and a half there.
Sunday marked the long-awaited John Mayer concert, my anniversary gift to Dan. Can I be honest? We both left disappointed. The last time I saw John Mayer perform was in 2006, and he blew me away then. Not just with his talent, but with his personality; he was such a personable and excited performer. He didn't seem nearly as in to it this time around. And he didn't play a single song from his first two albums. That was pretty disappointing for Dan, since his favorite is
Room for Squares
a.k.a John's debut. I understand he can't play the same songs for years, and I don't expect him to, but even the most legendary performers throw a bone to their fans and play one classic. I mean, if Mick Fucking Jagger can do it... Also, I will never understand an audience that sits in their seats the whole damn concert and doesn't feel the need to stand up and dance! I was bobbing in my seat the whole time, waiting for the moment our section would get with the program and stand on up. Didn't happen. Dan and I always have fun together, though, and we made the best of it. We jammed out to Eric Church's live album the whole way home with the windows down.
I'd love to hear how everyone spent their long weekends!
Please leave a comment and tell me what you were up to.
P.S. What I wore this weekend: